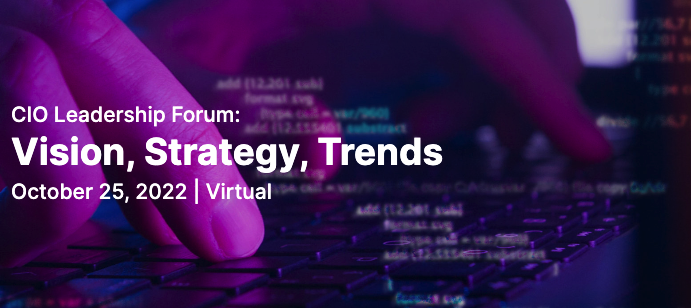 CIO Leadership Forum: Vision, Strategy, Trends October 25, 2022, Virtual
From driving digital transformation to assuring that enterprise technology enables desired business outcomes, CIOs and senior technology executives are under more pressure than ever to create value, manage digital information for maximum process impact, and assemble top-notch IT teams.
Attend the CIO Leadership Forum on October 25, 2022 to learn how to propel your enterprise's digital journey in light of the latest technology trends, challenges, and priorities. Learn how tech leaders from top companies are defining high-priority issues and what tops their agendas as we near the end of 2022.
You will also learn:
The latest technology and process challenges and trends and how top companies are preparing for them
How to assure that your digital journey is moving forward in a manner that is adaptable, resilient and scalable
What digital dexterity looks like today and how to improve, automate and streamline common IT processes
How sustainable IT and a reduced ecological footprint improves hiring and increases the bottom line, and best practices to get started
What's next? CIO strategies and priorities for next level success
Presentation were given at:
THOUGHT LEADERSHIP: Digital Transformation for the ERP Space for the Next 5 Years